COVID 19 Pool Setup and General Practice Instructions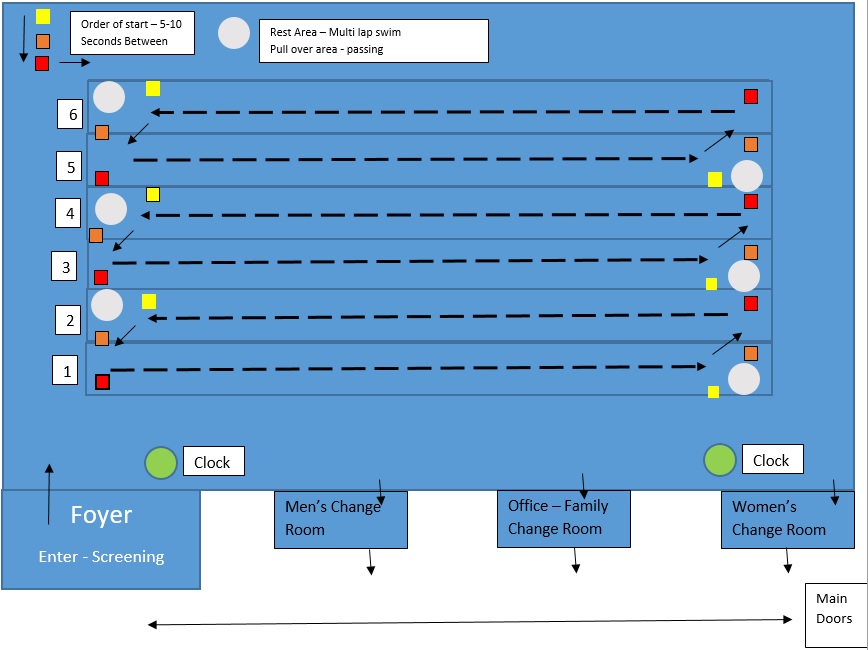 Dunbarton HS Pool 655 Sheppard Ave, Pickering, ON L1V 1G2 (directions)
Legend
Above allows for up to 6 swimmers per double lane.
Each swimmer will then have a "home base".
Each double lane will swim in a counter clockwise direction starting at both ends of the pool. The order will be red, orange, and then yellow. Swimmer will leave 5-10 seconds apart from each end. It might be suggested that for each double lane one person be delegated to lead each set.
As indicated in diagram, in multi lap swims, swimmers should cut over to make their turn around the flags. If a swimmer does need to allow a pass or otherwise to needs to stop, they should pull into the area depicted by a circle above. They may then continue and/or proceed to their "home base" .
General Instructions
Please remember to maintain your 2 meters at all times in the water and out
Swimmers will enter/exit via main door to pool area adjacent to parking lot which may be accessed from second entrance on south side of Sheppard west of Whites Rd.
Swimmers will arrive 15 minutes before practice begins and proceed to screening area. Upon entry to building and until leaving the building, mask should be worn at all times except when in the water.
Upon arriving at screening area, swimmer can sanitize hands with sanitizer. If mask is needed, one can be provided. Swimmer will then initial the screening sheet beside their name and record their temperature i.e. Hand held temperature monitor operated by one of the executive managing the screening.
Swimmer can then proceed onto the deck removing footwear (bring bag if required). If swimmer has swim suit on, they can place clothing in bag and place on deck against wall adjacent to where they will be swimming. Change rooms are available to otherwise change and bring belongings on deck and place against wall.
Swimmers may await instructions from coach at shallow end of pool or proceed directly to their allocated spot, remove mask and enter water.
The workout for each session will be posted to the website a day or two before the session. If at all possible, swimmers should print a copy and bring to the pool in a zip loc bag for eference.
At the end of the session, swimmers can proceed to change rooms, change and leave